Every Woman In Marvel's Black Panther Movie Kicks Ass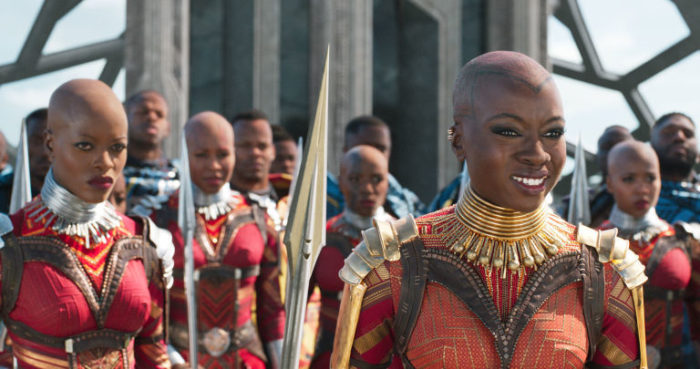 Black Panther is the very first film that showcases the intimate world of the Marvel comic superhero of the same name. First created in 1966, the Black Panther character had his ups and downs in relation to the other superheros but that didn't stop Marvel from spending nearly $350 million to create and market this blockbuster film.
Set in Wakanda, a (seemingly) third world country in Africa, audiences are surprised to learn that Wakanda is only pretending to be a third world country to protect its most vital resources and avoid war. In fact, Wakanda has secretly amassed an unlimited supply of a rare material that is used to enhance technology, cure diseases and provide superhuman physical strength.
When T'Challa, the superhero Black Panther, is summoned back to Wakanda in the midst of fighting crime in the world, he learns that his father, the King of Wakanda, has died and he is to take his place on the throne. Chaos ensues when his seat on the throne is threatened and the country of Wakanda is at risk of being destroyed completely.
While Chadwick Boseman who portrays T'Challa, the Black Panther, is definitely a strong and wise leader, it is the WOMEN of Wakanda who really step up to the plate as the only people he can trust and depend on. All of the men in the movie lied to him, disrespected him or turned their backs on him. The women in his life did not.
The women of Wakanda, who include Oscar-winning actress Lupita Nyong'o as Nakia, the unstoppable female spy;  Danai Gurira as Okoye, the head of Wakanda's armed forces, Letitia Wright as Shuri, the head of the country's technological advances; and Angela Basset as Ramonda, the mother of the Black Panther are ALL fierce, beautiful, smart and STRONG women. There is no abuse or victimization of women in this film. When the Black Panther needs a team to depend on to save his country, the only people who are able to stand with him are WOMEN.
This film is great. The story is easy to follow, even for people like me who had no idea that this film was based on a comic book or that this character even existed. Whoever stood behind this film spent their last dime, mortgaged their home and sold their children because they wanted it to break barriers and it DID. This movie was action packed with lots of special effects, great costumes and even intense emotional confusion as I found myself lusting after and being sympathetic toward the movie's villain, Killmonger, played by sexy ass Michael B. Jordan, known to most for playing opposite Sylvester Stallone in the film CREED. I hate action films but I still enjoyed watching it!
This was a film that shows that ALL SUPERHEROES need a team of women beside him!
AND… to put the icing on the cake…
There's a great battle scene in the end where the male warriors are fighting the women warriors. The men outnumber the women greatly but the women are managing to keep up; the men have magic shields and the women only have spears and might.
I'll let you guess who wins.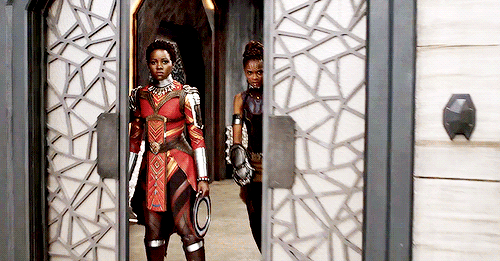 You HAVE to see this movie! Go see Black Panther!