Why is Dr. Dawn-Elise Snipes Presenting D/S and FLR Content Without Crediting FLR Teachers?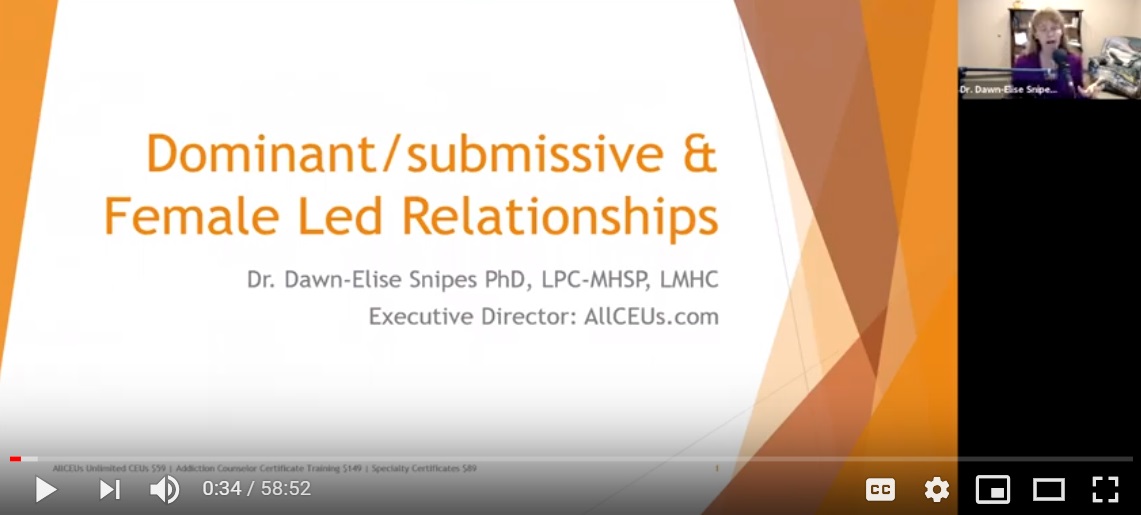 I was warned by a reader of LovingFLR.Com that a woman by the name of Dr. Dawn-Elise Snipes who is the Executive Director of ALLCEUs.Com had used my information word for word in a presentation on D/s and Female Led Relationships and posted it on her Counseling YouTube channel.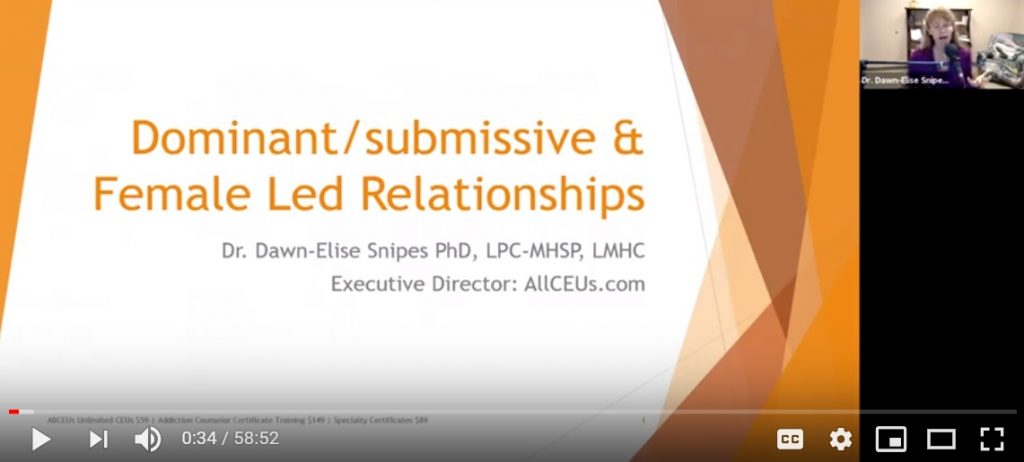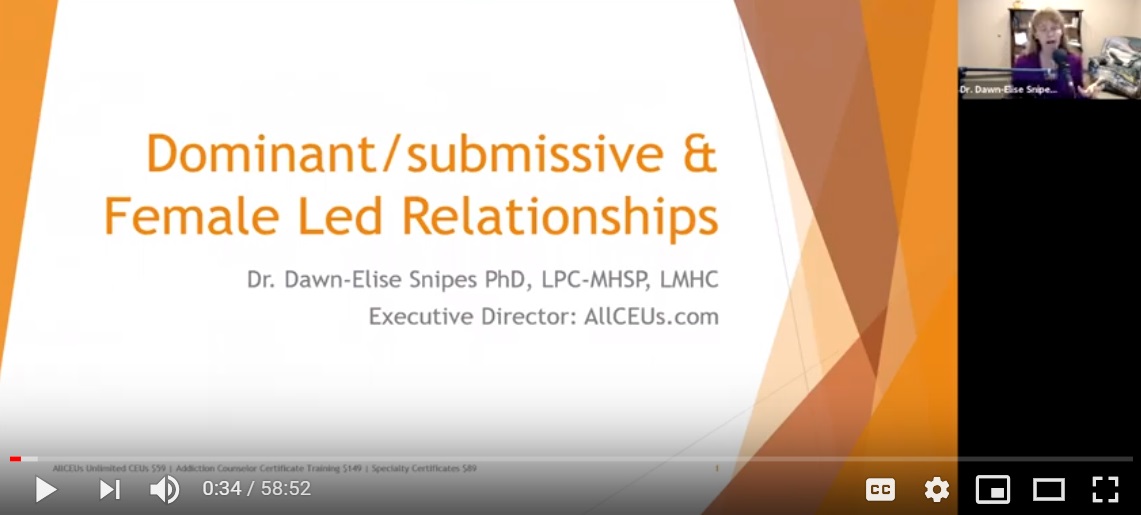 I clicked the link and saw that yes, my expressions for explaining my research on Female Led Relationships was used nearly word for word. She only exchanged the word "man" for "sub" for some reason. She wants to label men in FLRs as "submissive" when I never do that. Otherwise, her wording was word for word the same that you would find on my site.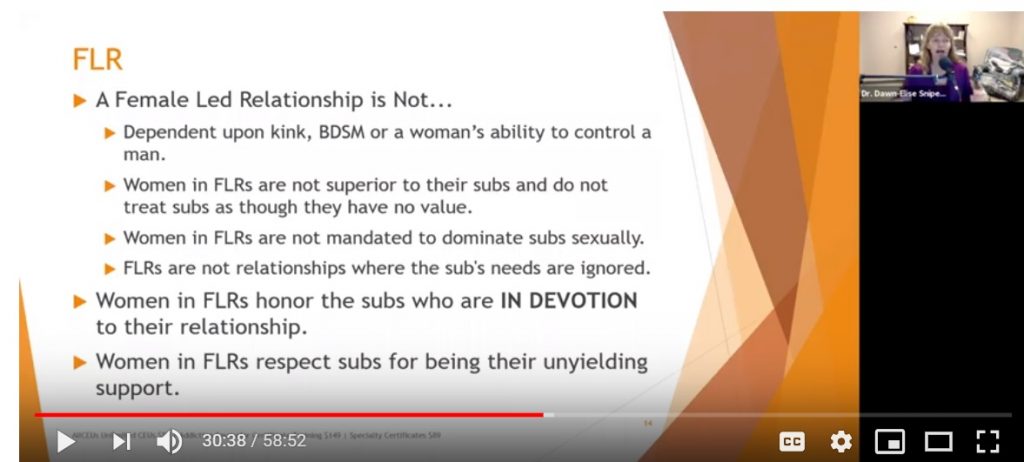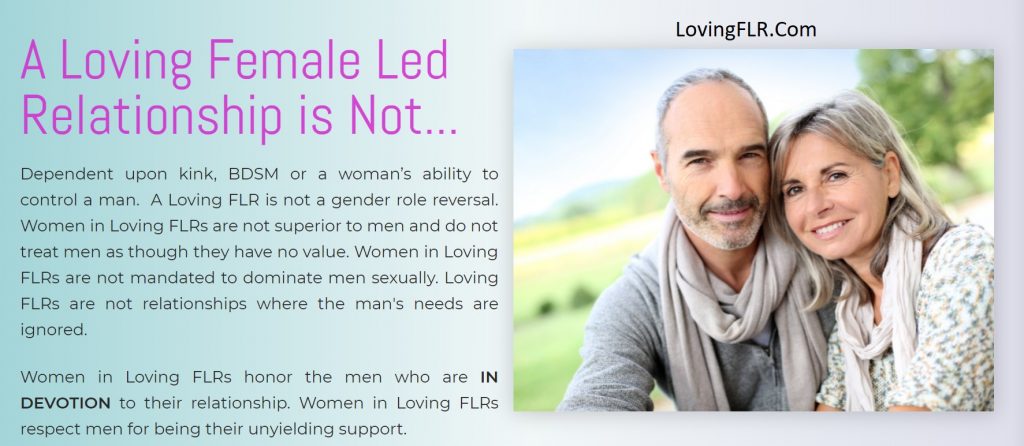 Not only was my information presented nearly word for word, she had other information about D/s that I am certain you all have seen before. Have you heard of the 4 Levels of FLR? I haven't read them but I have heard people reference them before.
All of this information that she presented was WITHOUT CREDIT to any of the people who created it. Although it may take you just a moment to review the work we create, I take considerable care and effort to write and teach in a way that will resonate with you and I don't take my work lightly.
I am the author of 5 books on Women's leadership in relationships and society. I am an expert on Female Led Relationships. I lead the discussion around what FLR is and help to guide others to create relationships that feel good to them. I have never in my life read any other author's books on the topic of Female Led Relationships (unless I was involved in helping to promote it) because I wanted my opinions and ultimately, my teachings, to be original as a result of my personal observations and research in Female Led Relationships. I have no idea what the other FLR teachers are doing and although I applaud them, I don't feel I need to pay attention or refute their teachings because there needs to be a variety of teachings to choose from.
As I reached out to Ms. Snipes about the video she posted as a part of her counseling education program I learned that she is in fact, ONE OF OUR FLR TEACHERS, except that she writes under a pen name. She didn't say which teacher she was but Maybe Dr. Dawn-Elise Snipes is the famous FLR teacher Elise Sutton? I don't know.
If so, WOW! Thank you for your early work in this field, I really did find an article about you FIRST and it led to me reaching out to you about it just for kicks, conducting an interview with you about your teachings and becoming fascinated by the early makings of this FLR concept! It made me want to explore more and I did by personally interviewing other women who claimed they were leaders in their relationships. I wanted to see what these strong women had in common and I DID LEARN. Now I teach those traits in a Women's Leadership Training program. I would not be doing this if it were not for your introduction! SALUTE!
Yes, you have been reading the FLR work of this woman for many years but she hides her identity from the public. Why?
As much as you may say about me and my work, that it's polarizing, that I'm only out for money because I have fees for my program or even that I am fat, middle aged and ugly (as I have read on YouTube), at least I am woman enough to stand up and SHOW MY FACE. I do not use a pen name, a BDSM title or hide behind avatars. Never follow a leader who is ashamed to show her face. Watch who you follow!
I am Te-Erika Patterson, the Publisher of LovingFLR.Com and the founder of our new Female Led Society and I respect my years of hard work, my representation of FLRs and my audience. I do not respect that my content was stolen and presented as though Ms. Snipes created it herself.
I was informed by a man who I assume to be her submissive husband, Charles (he has the same last name as she does), that she has agreed to cut out the information found in the video that mirrors my content. Thank you! But what about the work of the other authors she has stolen content from? Will our work in this field ever be credited publicly by academia who learns so much from us?
We do real work in creating FLR education. We may not agree on the details of FLRs but I believe that we are all in there together. We want to help people to create relationships that empower women! There are many ways to do that!
There are those of us who are sincerely researching and creating educational tools to help you to understand who you are, what you want and how you can create relationships that are satisfying. Don't negate our work. We are professional coaches, teachers, authors and researchers and we deserve our work to be celebrated too.