Key Words To Describe FLRs on Dating Sites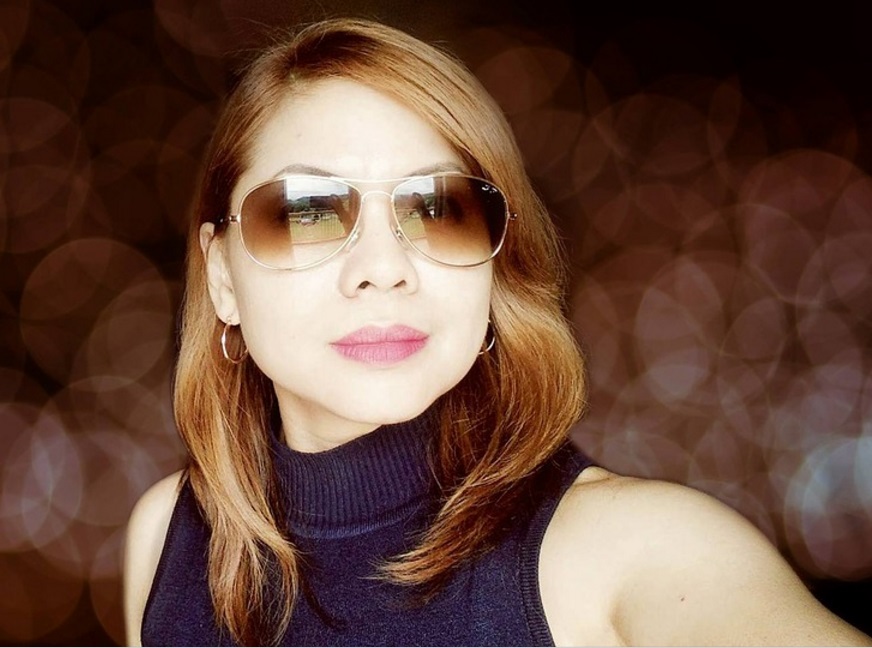 Developing a Loving Female Led Relationship with someone who expressly wants one is much easier than trying to convince a partner to be open to the idea. Those seeking a Loving FLR can either start out by making a friend first and then transitioning to a Loving FLR, post a FLR Personal ad or join the FLR Matchmaking Service.
If either of those choices are not right for you, it may be a good idea to continue to scour the dating apps for a partner until you find your match. While the term Loving FLR is still being established as a viable option for a love style it would be a lot easier if those who are in agreement with this feminine led relationship style had key terms to describe themselves on dating sites. This way identifying those who desire Loving FLRs will be the easy part, which precedes the most difficult part; establishing trust.
We'll deal with the trust part later. For now, I will present the 5 key terms you should use on your dating profiles to signify that you want a LOVING Female Led Relationship.
GODDESS
When a woman describes herself as a Goddess she is letting men know that she walks with power in this world. Men who dislike assertive women will keep it moving because they know that she cannot be tamed and she will have her way and nothing less.
GENTLEMAN seeking a GODDESS
When a man describes himself as a GENTLEMAN seeking a GODDESS he is telling the women who view his profile that he is looking for a powerful woman who will enjoy taking the lead.
I'm a Bossy woman.
When a woman describes herself as bossy, men who appreciate bossy women will respond to the ad..
Seeking a Loving FLR
When you come across a person who has written that they are seeking a Loving FLR you already know that they have studied this site, read the book or viewed the videos on Loving FLRs and they are on board with the message of promoting feminine leadership in relationships without focusing on the man's kinks.
I'm a Supportive Gentleman.
When a man indicates that he is supportive on his dating profile he is indicating that he has no desire to compete with or control a woman and will likely work to keep her happy as long as she appreciates his efforts.
Men's Sample FLR Dating Profile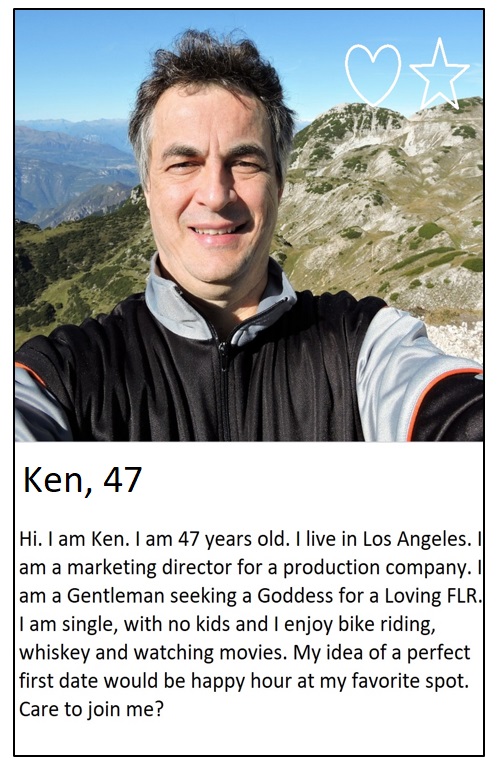 Hi. I am Ken. I am 47 years old. I live in Los Angeles. I am a marketing director for a production company. I am a Gentleman seeking a Goddess for a Loving FLR. I am single, with no kids and I enjoy bike riding, whiskey and watching movies. My idea of a perfect first date would be happy hour at my favorite spot. Care to join me?
Women's Sample FLR Dating Profile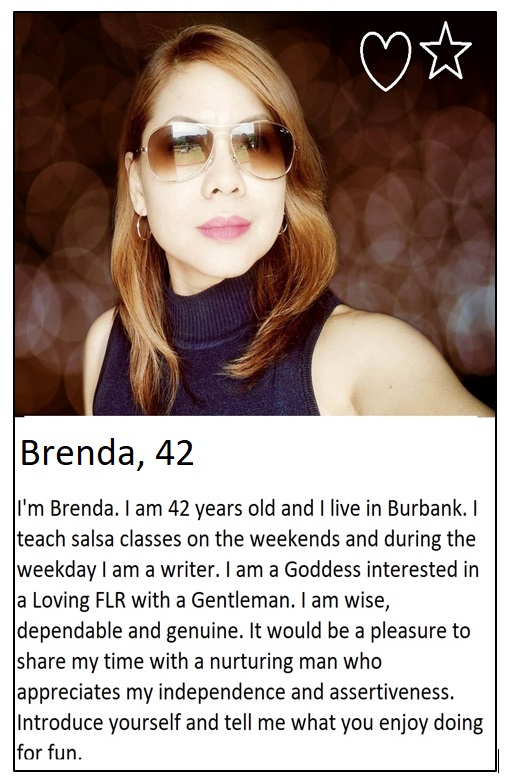 I'm Brenda. I am 42 years old and I live in Burbank. I teach salsa classes on the weekends and during the weekday I am a writer. I am a Goddess interested in a Loving FLR with a Gentleman. I am wise, dependable and genuine. It would be a pleasure to share my time with a nurturing man who appreciates my independence and assertiveness. Introduce yourself and tell me what you enjoy doing for fun.
USE THESE TERMS TO IDENTIFY YOUR DESIRE FOR A LOVING FLR.
Never use the words submissive or dominant, those descriptions will attract those who only want to fuel their kinky desires. If a person reading your profile asks what a Loving FLR is, send them to this site.
***Don't forget! We have the FLR Matchmaking Service for people who are seeking Loving FLRs and want to be personally matched with someone who wants a Loving FLR right now!