Reader Reviews for CORRECTION- The FLR Soap Opera
I decided to teach the principles behind Loving Female Led Relationships in a new and exciting way. I have created a FLR SOAP OPERA called CORRECTION, an episodic fiction drama series that follows the lives of a group of friends as they fumble through relationships and plenty of life drama while still growing into their identities and trying to figure out which roles and choices are right for them. They each take turns learning that when we are on the wrong path, life has a way of offering CORRECTION on its own to help us get back on track.
This FLR Soap Opera is my first attempt at writing long form dramatic fiction. Please be patient as I continue to hone my craft in this new creative effort to explore the beauty of Loving FLRs.
This FLR Soap Opera does not contain relationships that promote BDSM, kinks or male centered fantasies of female domination. This is a real FLR Soap Opera with multiple story lines that contain drama, mystery, thrills, romance and rated XXX sex scenes.
Join me for the ride as I explore the lives of Ava, Anthony, Joanna, Jay, Rebecca, Rocky and their friends, all of whom are clueless about love and life but they don't know it yet.
When we first meet Ava and Anthony, they are in love but unwilling to admit that they are dissatisfied with their relationship. Ava tries everything to make things work better but her efforts only seem to push Anthony away, into the arms of another woman.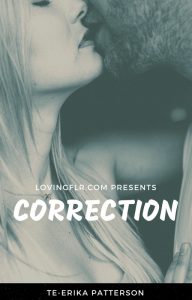 This FLR Soap Opera explores:
The poor qualities that women express that turn men away
How men can benefit from a Loving FLR
Why the influence of friends can hurt a relationship
How men treat women when they actually respect them
What makes a man respect a woman
How a woman can lead a relationship effectively
How men push women away
The differences between being dominant at work and being dominant at home
What it will take for a woman to finally stand up and become a Goddess
If you want to follow along the saga that CORRECTION presents you can SUBSCRIBE to the Loving FLR DEVOTION Newsletter.  The $10 monthly subscription will enable you to receive the FLR stories in this Soap Opera in your inbox for as long as you are an active subscriber.
Check out these REAL Comments from current CORRECTION subscribers.
I think the "lurker" is Anthony's work nemesis. A potential blow up is coming when Ava comes home with Jay and Anthony shows up. Love the character build up. love the fact that there are characters that I can relate to in situations I often find myself in! Awesome!!"
We are enjoying your story a lot and would like to continue reading. Thanx for your trouble and effort."
its so boring and all over the place. I stopped reading. Sorry!"
This is getting very intriguing."
You are a terrific writer. The 
plot
thickens
. Looking forward to part 6."
I don't think her declaration of her love for him weakens her position. I actually think it takes a strong woman to express their true feelings. I agree their attraction is undeniable in bed. — But what I think is that Ava has to show her assertiveness out of the bedroom as well."
What are you waiting for? For $10 per month you can be swept away by this one-of-a-kind FLR drama that has sex scenes that are so much hotter than any erotic fiction you have ever read!
You should at least try it out. If you don't like it, you can cancel at any time.
SUBSCRIBE to the Loving FLR DEVOTION NEWSLETTER TODAY!